YPY EA Tekvilidy ELITE For MT4
By Chris Moris
2970 views
YPY EA Tekvilidy is an innovative trading robot, performing automatic trading with real Take Profit and Stop Loss levels.
This expert advisor showed stable trading results during testing (99% modelling quality) for all supported instruments on the entire period of tick history (over 11 years).
Know-how of trading techniques of the YPY Tekvilidy is based on trading on the volatile market in conjunction with an automatic adaptation of the orders support system for the current price movement. Opening an order, trading system always sets Stop Loss, which doesn`t exceed the size of Take Profit. 

The ELITE version of the YPY EA Tekvilidy trading robot works on AUDUSD (?5), EURUSD (?15), GBPUSD (?15), USDCHF (M15), XAUUSD (?15). The multicurrency ELITE version has a greater frequency of trades and more efficiency than the PRO version.
Advanced full-featured PRO & ELITE versions of the new cutting-edge experts YPY EA Classic and YPY EA Tekvilidy are specifically designed by developers to be used in the portfolio management of large funds at the maximum achievable stability on any of the long periods of history.
Key Features
Trading is fully automated.
Optimization is not required.
High operability, no needless setting.
Intelligent automatic system of tracking open orders sets real Take Profit and Stop Loss levels. Fully adapted for the actual price movement.
Intelligent automatic deposit load balancing which also takes into account the multi-currency trading.
Intelligent spread expansion control system.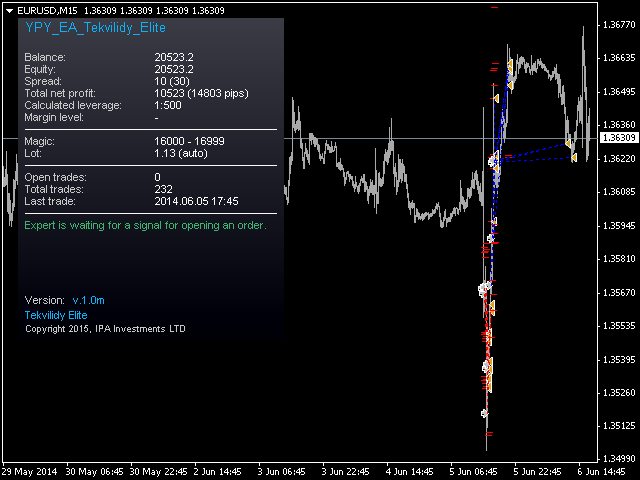 Description of the Main Expert Advisor Settings
TradeMode= Trade/Pausetrade/Stoptrade

Trade – trading mode
Pausetrade – when this mode is enabled, the trading complex continues maintaining existing orders without looking for new entry points in order to progressively complete the trading on the account.
Stoptrade – when this mode is enabled, the trading complex immediately completes the trading by closing all of its orders.

AutoMM - system for automatic calculation of lot size based on the free equity, taking the deposit currency into account.

High - high risk
Medium - medium risk
Low - low risk
Minimum - minimum risk

OFF - disables the automatic money management system and allows the user to customize the lot size manually using the Lot parameter
Lot– the lot size for trading (maximum value is 10)
MinLeverage– minimum leverage size required for opening new orders
MinMarginLevel– minimum margin level of the account as a percentage, which is required for opening new orders
Slippage– maximum allowed slippage when opening orders
MaxDrawdown– maximum total equity drawdown of all orders in the deposit currency. When this drawdown is reached, all orders on all instruments are closed (trading will be resumed on the next trading day)
Warning
It is recommended to check out the EA operation in the strategy tester of the terminal and on a demo account.
The EA should be attached to charts of each traded instrument individually.
The product does not comply with FIFO.
Requirements for the trading conditions:

Any broker and any account type (recommended: DMA, ECN, STP, NDD)
Recommended leverage is 1:100 and higher
Recommended deposit is $10000 and above
Author
IPA Investments LTD specializes in innovations of software in the sphere of trading both for own requirements and for implementation of tasks of corporate clients.
---